Half & Half Creamers
In coffee, tea, cereal, cocktails or recipes – quality half and half is a must for your food service creations. And HALF & HALF fills the bill when you need the rich taste of dairy-fresh half and half.
Portion controlled cups.
Ideal for restaurants, hotels, coffee shops, carryout, room service, or placing directly on the table.
Private Labeling available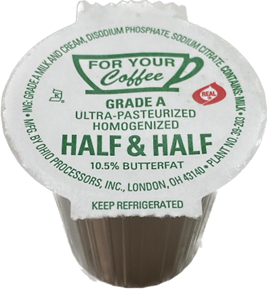 Ingredients:
Grade A Milk and Cream, Contains less than 1% of: sodium citrate, disodium phosphate.
Contains: Milk
Handling Instructions
For best results, keep refrigerated between 34-38 degrees.